Welcome to...

Your source for high quality DVDs of classic films from Hollywood's golden age!
Here you are! You've made it to Reelclassicdvd!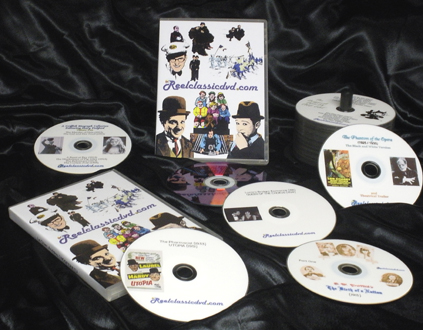 Thanks for visiting! I'm Mark Roth and I've been a collector of classic films for over 30 years. Long before the VCR became a household fixture and long before DVD was even a dream. Until now, 16mm film was the only viable medium for getting a truly theatrical experience at home. You'd need at least one film projector, a screen, a fairly decent sound system and a ton of money to buy films. After buying a digital projector, I was amazed at the quality DVD can deliver, even when projected on an eight foot screen! The major studios are turning out some terrific stuff, but what about the other films? What about the films not considered for a major DVD release because they wouldn't be profitable enough?
Within this site you'll find them. DVDs of classic films: Comedy, drama, horror, silents, talkies and many rare titles you won't find anywhere else!
Another thing you'll find here is QUALITY! These are not cheap, second rate bargain bin DVDs. All of the titles we offer are transferred directly from the best film sources available and we do the mastering right here! Every step is in the digital domain. The only analog element is the film itself. For more information, see "Why our DVDs are Better". With the exception of posters, every image used on this site is an actual frame capture from the DVD it illustrates.
Our DVDs are professionally packaged in standard cases with a printed outer wrap. Titles and images are printed directly on the surface of the disc.
Please take your time and look over our offerings, but remember to come back often! Our catalog is constantly expanding as we discover and release more great movies on DVD! Please see the links below to view our selection of available titles and ordering information.
Reelclassicdvd


Promote Your Page Too
All contents of this site copyright Reelclassicdvd.com. No portion may be copied or used without permission.